Paddle Tip Swab
EC-757B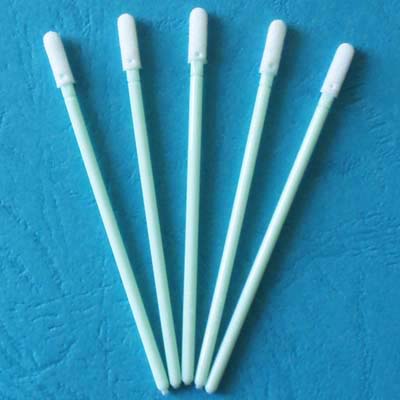 Description
3" long PP handle with Paddle Tip Swab designed for removal of contamination from tools in critical manufacturing environments. No fiber shedding and abrasion resistant with good solvent compatibility. 3" long PP handle with a small flexible paddle super absorbent foam tip. It's well suited for cleaning thin, grooved areas of parts and assemblies.

Features
◆Compressed, 100ppi open-cell structure with excellent water absorption.
◆Thermal bonding tip, no chemical bond contaminations.
◆Available for cleaning small slotted and grooved areas.
◆Low particle generation and less contaminated ions.
◆No silicone oil, amide, DOP, etc.
◆Low nonvolatile residue.

Parameter
| | |
| --- | --- |
| Item | Details |
| Swab Tip | Imported Clean Polyurethane Foam |
| Tip Width | 3.2 mm (0.126") |
| Tip Thickness | 2.6 mm (0.102") |
| Tip Length | 10.0 mm (0.394") |
| Handle Material | Polypropylene |
| Handle Width | 2.2 mm (0.087") |
| Handle Thickness | 2.2 mm (0.087") |
| Handle Length | 59.7 mm (2.350") |
| Total Swab Length | 69.7 mm (2.744") |
| Bonding | Thermal Bonding |
| Color | Light Green |
| Packing | 100pcs/inner pack; 5packs/bag; 500pcs/bag |