Keyboard Tip Swab
EC-706A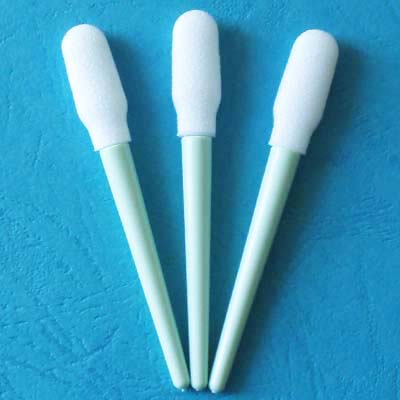 Description
3" long PP handle with Keyboard Tip Swab is specially designed to clean keyboards and keypards. Its open cell PU foam tip possesses excellent durability for scrubbing stubborn dirt. A thin internal paddle provides support when cleaning between keys. The thick PP handle enables good control and ease of use.

Features
◆Compressed, 100ppi open-cell structure with excellent water absorption.
◆Thermal bonding tip, no chemical bond contaminations.
◆Available for cleaning small slotted and grooved areas.
◆Low particle generation and less contaminated ions.
◆No silicone oil, amide, DOP, etc.
◆Low nonvolatile residue.

Parameter
| | |
| --- | --- |
| Item | Details |
| Swab Tip | Imported Clean Polyurethane Foam |
| Tip Width | 10.9mm(0.429") |
| Tip Thickness | 8.5mm(0.335") |
| Tip Length | 27.0mm(1.063") |
| Handle Material | Polypropylene |
| Handle Width | 6.3mm(0.248") |
| Handle Thickness | 6.3mm(0.248") |
| Handle Length | 54.0mm(2.126") |
| Total Swab Length | 81.0mm(3.189") |
| Bonding | Thermal Bonding |
| Color | Light Green, Blue |
| Packing | 100pcs/bag |