Foam-Coverer Cotton Swab
EC-720B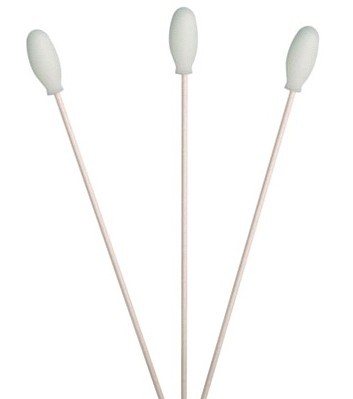 Description
6" long wooden handle with Foam-Covered Cotton Swab is a highly sorbent, general-purpose swab for cleaning surfaces and hard-to-reach areas. Its open cell PU foam tip possesses excellent absorptive capacity and cushioning. The internal cotton bud provides cushioned support and additional sorbency. It's a quite economical choice.

Features
◆Compressed, 100ppi open-cell structure with excellent water absorption.
◆Thermal bonding tip, no chemical bond contaminations.
◆Available for cleaning small slotted and grooved areas.
◆Low particle generation and less contaminated ions.
◆No silicone oil, amide, DOP, etc.
◆Low nonvolatile residue.

Parameter
| | |
| --- | --- |
| Item | Details |
| Swab Tip | Imported Clean Polyurethane Foam and Cotton Bud |
| Tip Width | 11.6 mm (0.457") |
| Tip Thickness | 10.0 mm (0.394") |
| Tip Length | 27.0 mm (1.063") |
| Handle Material | Wooden |
| Handle Width | 2.2 mm (0.087") |
| Handle Thickness | 2.2 mm (0.087") |
| Handle Length | 127.0 mm (5.000") |
| Total Swab Length | 154.0 mm (6.063") |
| Bonding | Thermal Bonding |
| Color | Wood |
| Packing | 500pcs/bag |