Single Bold Tip Swab
EC-901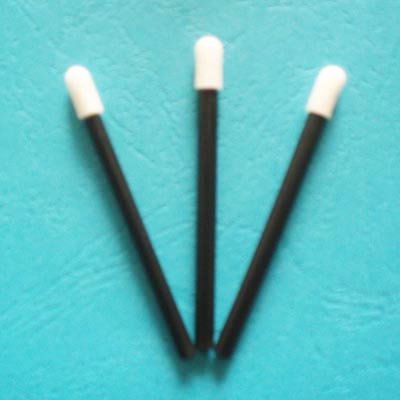 Description
3" long PP handle with Single Bold Tip Swab is a large, general-purpose swab for cleaning surfaces. It's open cell PU foam tip possesses excellent durability and cushioning. A rigid internal paddle provides firm support. The bold PP handle enables good control and ease of use.

Features
◆Compressed, 100ppi open-cell structure with excellent water absorption.
◆Thermal bonding tip, no chemical bond contaminations.
◆Available for cleaning small slotted and grooved areas.
◆Low particle generation and less contaminated ions.
◆No silicone oil, amide, DOP, etc.
◆Low nonvolatile residue.

Parameter
| | |
| --- | --- |
| Item | Details |
| Swab Tip | Imported Clean Polyurethane Foam |
| Tip Width | 5.5mm(0.216") |
| Tip Thickness | 5.0mm(0.196") |
| Tip Length | 11.0mm(0.433") |
| Handle Material | Polypropylene |
| Handle Width | 4mm(0.157") |
| Handle Thickness | 4mm(0.157") |
| Handle Length | 56.0mm(2.205") |
| Total Swab Length | 68.0mm(2.677") |
| Bonding | Thermal Bonding |
| Color | Black |
| Packing | 50pcs/bag |