Single-Layer Polyester Tip Swab
EC-758L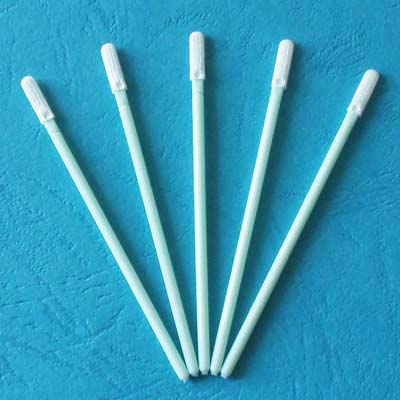 Description
3" long PP handle with Single-Layer Polyester Tip Swab designed for removal of contamination from tools in critical manufacturing environments. No fiber shedding and abrasion resistant with good solvent compatibility. 3" long PP handle with a small flexible paddle super clean polyester tip. It's well suited for cleaning thin, grooved areas of parts and assemblies.

Features
◆The head is made by Single-Layer polyester Filament fiber and lundered by Pure water.
◆Thermal bonding head, no chemical bond contaminations.
◆Low particle generation and less contaminated ions.
◆Low nonvolatile residue.
◆Available for cleaning small slotted and grooved areas.
◆Suitable for most solvents and has good solvent absorption.
◆No silicone oil, amide, DOP, etc.
◆Packing in Class 10 Cleanroom.

Parameter
| | |
| --- | --- |
| Item | Details |
| Swab Tip | Super Clean Polyester |
| Tip Width | 3.2mm(0.126") |
| Tip Thickness | 1.9mm(0.075") |
| Tip Length | 10.0mm(0.394") |
| Handle Material | Polypropylene |
| Handle Width | 2.2mm(0.087") |
| Handle Thickness | 2.2mm(0.087") |
| Handle Length | 60.0mm(2.362") |
| Total Swab Length | 70.0mm(2.756") |
| Bonding | Thermal Bonding |
| Color | Light Green |
| Packing | 100pcs/inner pack; 5packs/bag; 500pcs/bag |