Conductive Polyurethane Foam
EC1002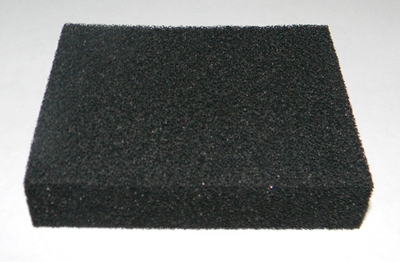 Low density urethane, stiffened and unstiffened, is available for packaging of odd shaped parts for the transportation of printed circuits, computer chips, etc. Conductive Plastics also has high density and ultra high density conductive foam. The high density foams are specifically engineered for lead insertion and are designed to prevent degradation.
An outstanding advantage for using Conductive Plastics conductive foam is cleanliness. There is no sloughing. It's non-corrosive and does not particulate. Conductive foam is available in standard sheets, hot wired, die cut, convoluted and laminated to other substrates, such as pressure sensitive adhesive.
Specification:
Item

Test

LD Results

HD Results

Ultra 80 Results

Density

ASTM-D-3674-81

2.2/ft3+/-10%

2.75/ft3+/-10%

3.5/ft3+/-10%

Tensile

ASTM-D-3674-81

15 psi, min.

20 psi, min.

25 psi, min.

Elongation

ASTM-D-3674-81

250% min.

150% min.

120% min.

Tear Strength

ASTM-D-3674-81

2.5/lin. in., min.

2.0/lin. in., min.

2.5/lin. in., min.

Compression

ASTM-D-3674-81

35+/-4 in2

64+/-6/in2

90+/-8/in2

Surface Resistance

ASTM-D-257

103-105/sq.

103-105/sq.

103-105/sq.

Volume Resistance

ASTM-D-991

103-105/sq.

103-105/sq.

103-105/sq.

Military Specs.

Mil-B-82646

Meets

Meets

Meets

Non-Corrosive

Mil-STD-883-B

(Method 1004.2)

Meets

Meets

Meets

Combustibility

Mil-P-26514F

Meets

Meets

Meets

Static Decay Rates

Mil-81705-C

Meets

Meets

Meets

Fed. Test Method

STC 101B/3005


Surface Resistance


103-105

ohms/sq