ESD Metal Wrist Strap
EC1703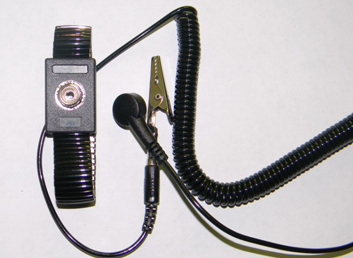 ESD wrist straps are the most basic grounding devices of ESD equipments, also the necessary product in electric product line. With convenient structure and operation, a wrist band and a grounding cord make up a wrist strap.

Wrist Band make directly contact with skin, through button on the metal plastic buckle and grounding kits, transmit the electrostatic from skin. Wrist band is made of various conductive compound materials, such as silver-gilt fiber and elastic nylon thread, stainless steel fiber, conductive plastic buckle, also have metal wrist strap with metal stretch watch.

In despite of which material, wrist band must be satisfied with two points, one is wrist band (be closed to skin) volume resistivity with ρ V≤ 102Ω Cm, second is wrist band must be elasticity or can be adjustable, be suit for different wrist can be closed tightness to skin.

Metal plastic buckle likes plate, joint wrist band and grounding cord, adjust the contact between wrist band and skin. There are three types of button with 4mm, 7mm and 10mm.

ESD wrist strap of our company are qualified by Country Electronic Industry ESD Products Quality Superintend Center.

In order to meet the requirement of customers in domestic and overseas, we develop and manufacturer various series of wrist strap, such as elastic series, Velcro series, metal series, cordless series wrist strap.